Created by staff from the Acceleration Lab, the Accelerators in Health Care (AHC) card game leverages the power of analogies and constraints to help teams generate innovative solutions for some of the toughest challenges in health care. 
After cycling through co-creation stages and pitching solutions, players leave the game with enhanced ideation skills and a deeper understanding of innovation methodology. Health care professionals from around the nation have played this game, including:
Executives looking to increase innovative thinking in their organization
Quality improvement staff hoping to broaden solutions for a plan-do-study-act cycle
Medical and business students seeking to learn more about innovation methodology   
How it Works
The game is played with three to eight players. Innovators utilize accelerator cards to develop novel solutions for problems presented on challenge cards while trying to avoid monkey wrenches from their opponents. After rapid-fire pitches, the judge determines a winner for the round. The first innovator to seven points wins the game.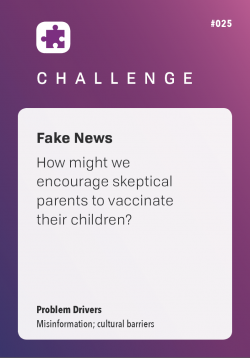 Health care is full of complex and seemingly intractable issues. Challenge cards pose a variety of problems to players. Can you improve access to specialists for rural patients? Can you make it easy for patients with high blood pressure to adhere to their medication?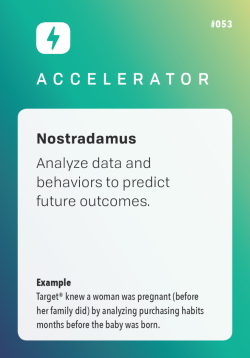 Accelerator cards challenge players to create and apply entirely new kinds of solutions. How would you solve postpartum depression if you operated like IKEA? How might you tackle long emergency room wait times if you were Warren Buffet?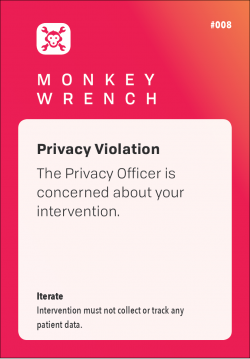 We all know that best-laid plans rarely unfold as intended. Whether it's dealing with an IS freeze or staff turnover, a shoestring budget, or resistance to change – there's always a monkey wrench to work around! AHC allows judges to sabotage pitched ideas by dealing out monkey wrench cards. Can you think quickly and adapt your concept? Only one idea can come out on top!
Purchasing
University of Pennsylvania, Penn Medicine, and Children's Hospital of Philadelphia employees can purchase the game at a discounted price. Simply create an account using your work email address to purchase single box sets for $50 and 5-set bundles for $250.
Single box set (Price: $150)
Each box set includes 30 challenge cards, 65 accelerator cards, 20 monkey wrench cards, a sand timer, directions, and 17 winner tokens.
Bundle of 5 (Price: $600)
Purchase five individual game sets for the price of four and save $150.
Interested in placing a large order?
Contact Us
Want your staff to become innovation experts? Let us facilitate an innovation workshop for your team. Our innovation experts will lead you through AHC gameplay and share suggestions for bringing ideas to life. Email us at acceleratorsgame@pennmedicine.upenn.edu with the following information to receive a quote for your event.
Your organization
Description of the workshop audience
Number of participants
Timing or specific dates for the workshop
Have a question about the game or have an idea for a card? Email us at acceleratorsgame@pennmedicine.upenn.edu.
Have a shipping question? Email our shipping vendor at customerservice@shopaccelerators.com.