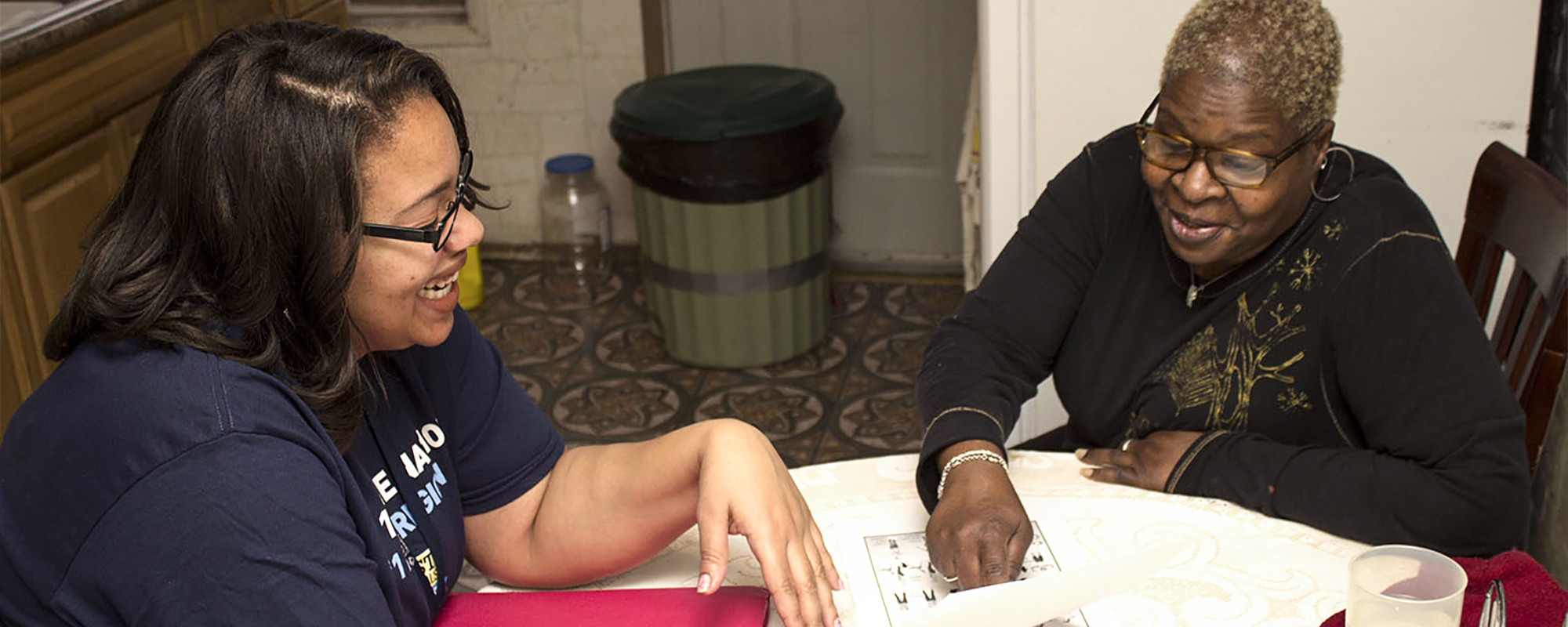 IMPaCT
A standardized, scalable program that leverages community health workers
Project status
Implementation
Scale
Spread
Collaborators
Shreya Kangovi, MD, MS
Jill Feldstein, MPA
Karen Glanz, PhD, MPH
Joan Doyle, RN, MSN, MBA
David Grande, MD, MPA
Casey Chanton, MSW
Judith Long, MD
Tamala Carter
Mary White, CHW
Sharon McCollum, CHW
Olenga Anabui, MBA
Innovation leads
Funding
Innovation Accelerator Program
Opportunity
There is growing awareness in health care that the social determinants of health – our social connections, living conditions, and access to resources like food, housing, and transportation – affect health and life expectancy more than medical care and genetics. Effectively addressing these social factors can help health care organizations reduce costs and improve care quality. 
Intervention 
Developed by a multidisciplinary team of researchers at Penn, IMPaCT (Individualized Management for Patient-Centered Targets) is an evidence-based, standardized program that harnesses the power of Community Health Workers (CHWs) to improve patient outcomes and quality of care.
CHWs are trusted individuals who come from within the communities they serve. They provide a broad range of services, including advocacy, social support, navigation, and health coaching to improve health outcomes. Historically, CHW programs have struggled to achieve sustainability and scale due to high turnover and lack of infrastructure. The IMPaCT model addresses these limitations by leveraging robust hiring and selection strategies, supervision practices, and performance management tools. 
Shortly after the Penn Center for Community Health Workers was established to implement IMPaCT as a standard of care at Penn Medicine, the team started to receive requests from other health systems and payers interested in the model.
We worked with the IMPaCT team to develop an autonomous and adaptable business model for the program. Together, we designed and launched interactive resources to support dissemination. Outputs included toolkits for hiring, training, and supporting CHWs, and technical assistance services to help organizations plan and launch successful CHW programs.
Impact 
In three randomized controlled trials, IMPaCT has demonstrated an ability to improve chronic disease control, mental health, and quality of care while reducing total hospital days by 65 percent and doubling the rate of patient satisfaction with primary care. Additionally, an economic analysis of the program found that every dollar invested in IMPaCT returns $2.47 to an average Medicaid payer within the fiscal year. 
IMPaCT served more than 18,000 patients in the Philadelphia region who had significant medical issues driven by social needs in its first five years in operation. Today, it is the most widely disseminated CHW program in the United States. The team has worked with over 50 payer, provider, public health, and community-based organizations to stand up offerings across 20 different states. And the insights from the past 12+ years of learning while serving 50,000 patients directly and through partner organizations are now available through cloud-based technology and services designed for managing CHWs at enterprise scale. 
Visit the IMPaCT website to learn more.