Spotlight on: Rebecca Trotta
Innovator spotlight |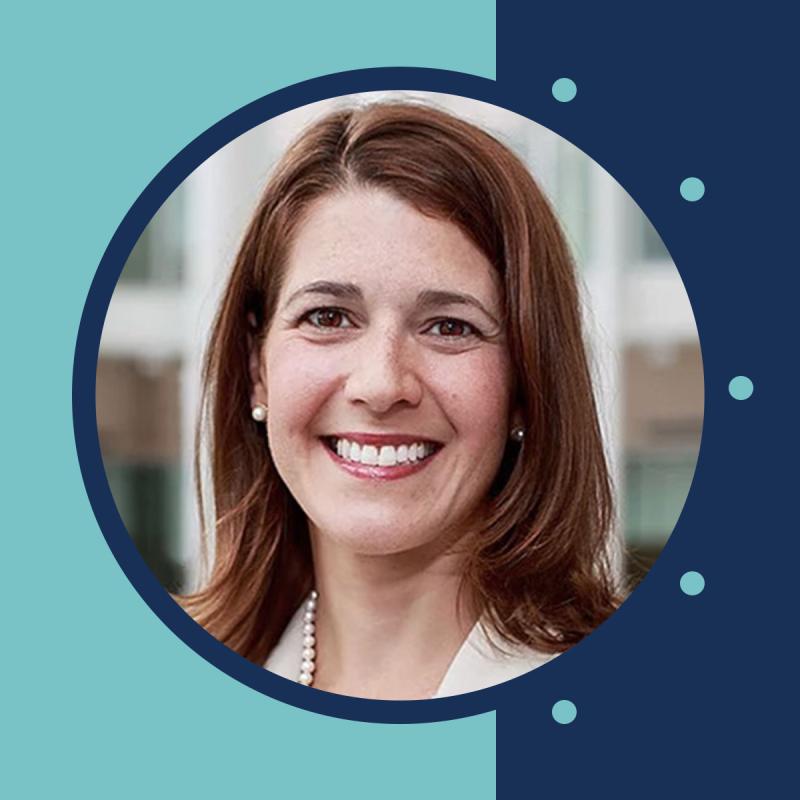 Director, Nursing Research & Innovation
Director, Geriatric Programming
Director of Nursing Research and Innovation, Hospital of the University of Pennsylvania
Director of Geriatric Programming, Hospital of the University of Pennsylvania
---
Rebecca Trotta is changing how Penn Medicine cares for older adults, and it starts with a proactive stance.
"A lot of the concerns in geriatrics can be anticipated and prevented," she explains. "Older people who show up at the hospital, or are out in the community living their daily lives, are at risk for negative things to happen – anything from a fall to an exacerbation of their chronic disease. But those things are known. So the potential risk for these sequelae can be identified and mitigated with the right interventions."
A prevention focus permeates much of Trotta's work as the director of geriatric programming at the Hospital of the University of Pennsylvania (HUP), including the program SOAR (Supporting Older Adults at Risk). Originally an Innovation Accelerator project, SOAR began as a continuity-of-care program that enables hospitalized older adults to be discharged sooner and receive personalized support at home. SOAR has since come to encompass additional hospital-based activities: for example, the implementation of a geriatric nurse practitioner (NP) primary care co-management model and adoption of the American Geriatric Society's CoCare: HELP program. 
Trotta's journey to transform care began unfurling in 2012 when she was appointed the director of nursing research at HUP. "It became immediately apparent to me that geriatric services and evidence-based practices were absent at HUP," she says. "We had no geriatrics consult service, no geriatric admitting team, no way to get geriatrics support." 
To rectify that, Trotta acquired a federal grant to establish a nurse-led interprofessional geriatrics program. Over the next three years, nurses were trained to evaluate older patients receiving acute care and advise care teams on best practices, including prescribing practices, on a rotating basis. 
"One thing that gives me satisfaction is how positive the outcomes can be when you apply evidence proactively and systematically, which is what SOAR is all about." – Rebecca Trotta
"When people are hospitalized, especially older adults, the focus is on the acute problem. But there's a whole host of other things that can go sideways during a hospitalization that the acute care environment isn't really structured to identify and address. And so, where a lot of our work starts is to say, 'Okay, we have an older person, they have renal failure or heart failure exacerbation, and we need to take care of that. But they're also cognitively impaired, walk with a cane, and all these other things that we need to keep on the radar to avoid issues.'"
After a successful demonstration period, two full-time nurse consultants were hired to do this work, which has since shifted from a consulting model to a co-management model. Over time, several specialty groups at HUP – such as oncology, heart failure, and neurology – saw the benefits and requested geriatrics support. The hospital now employs six primary care geriatric NPs to anticipate patient needs.
"One thing that gives me satisfaction is how positive the outcomes can be when you apply evidence proactively and systematically, which is what SOAR is all about," says Trotta. For example, in pilots with SOAR's flipped-discharge model and transition support, patients had about one-third fewer readmissions and emergency room visits, hospital stays decreased by more than a day, and medications were obtained much faster.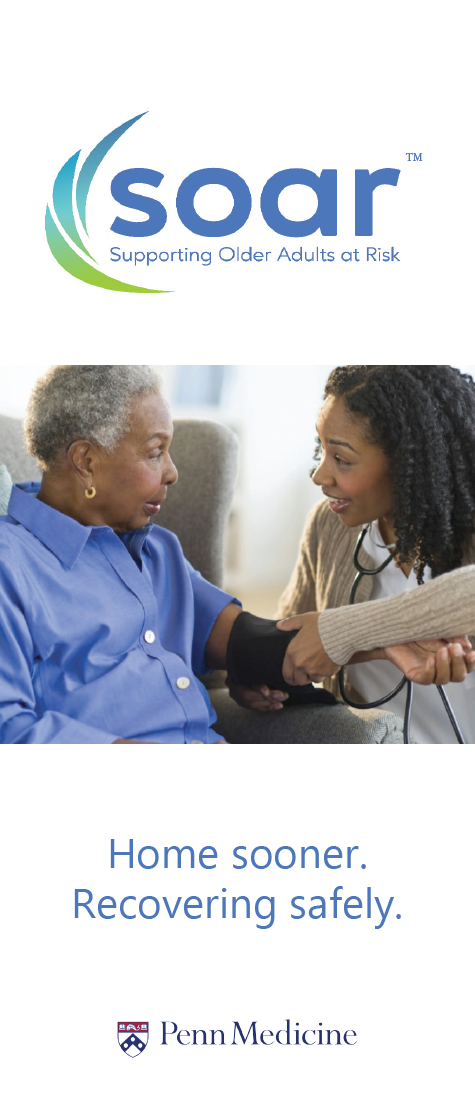 "Rebecca is dedicated to building an innovative and best-in-class geriatrics nursing program," says Dave Resnick, MS.Ed, MPH, a senior innovation manager at the Center for Health Care Innovation and SOAR collaborator. "She ensures that evidence-based geriatric care is infused into the way HUP operates from the moment patients are admitted. Building continuity of care into a patient's journey from one care setting to the next is no simple task, and Rebecca's 'stick-to-it-iveness' and willingness to partner have been linchpins in the success of the geriatrics nursing work."
In her current role as HUP Nursing's director of innovation and research, Trotta has advocated for the use of design thinking and its constituent approaches in more research projects. "I apply a methodological perspective to a variety of questions, and I help teams think about where they can improve. One of the classic things is contextual inquiry: learning what the problem is, what the drivers are, who's involved, etc."
In academic environments where the randomized controlled trial is the gold standard and health care settings that can be risk averse, Trotta says that innovation approaches like rapid validation and iteration can feel uncomfortable at first.
"But we made a lot of important strides and findings using those methods." With SOAR's pilot results, she says, "Those are outcomes that HUP had never seen, and they probably wouldn't have ever seen them if it were not for leveraging innovation design."
Design thinking tactics like examining assumptions or piloting a fake back end can help teams evaluate which ideas are worth pursuing. And to get reticent organizations on board, Trotta recommends emphasizing – when applicable, as in SOAR's case – that the endeavor carries little risk.
With initial successes in hand, Trotta is now aiming to scale geriatric programming across the system.
"This is my life's passion. In the next 20 years, if we have a systematic approach to geriatric care that requires practitioners to do what we know works, what we know our patients need, and what we know drives positive outcomes – I'll have done my job. I'll have left my mark on the world."