The innovation center transforms
Blog Post |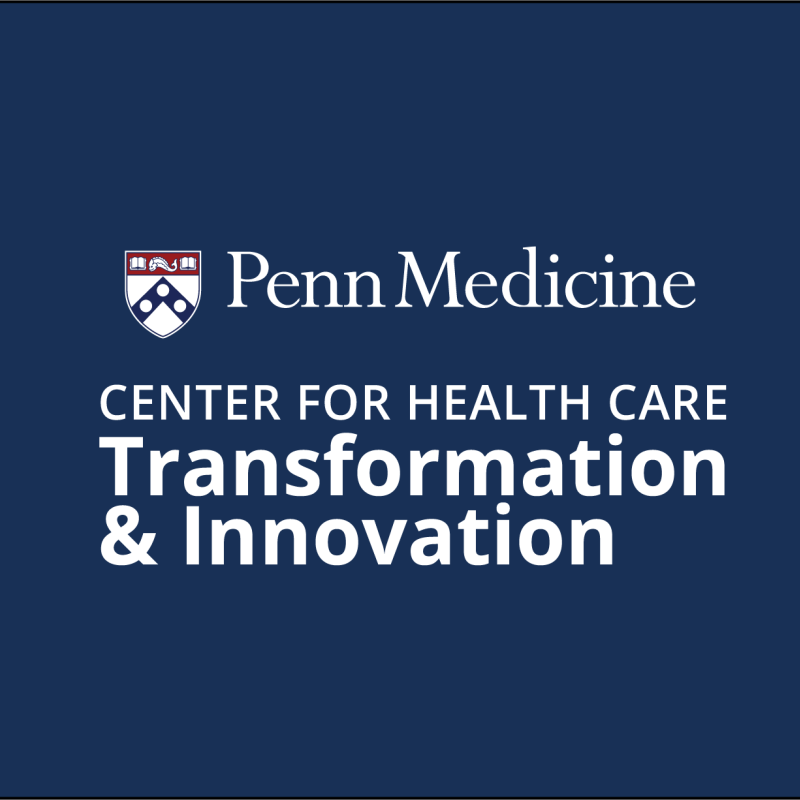 The Center for Health Care Transformation and Innovation (CHTI) has evolved continually since its start in 2010, bringing new teams, talent, and strategies to bear on friction points in health care delivery to improve outcomes, value, experience, and equity. In this latest incarnation, many months in the making, we are repositioning CHTI to advance health care in alignment with Penn Medicine's strategic priorities.
Specifically, we are targeting four key domains: 
care delivery, to provide high-quality, personalized care at the right time and in the optimal setting; 
workforce experience, to build a system that prioritizes the experience of health care staff; 
health justice, to enable health through racial, economic, and environmental justice for all people and neighborhoods harmed by structural inequity; and 
science to system, to create a leading learning health system with a robust pathway to facilitate, implement, and disseminate promising interventions.
To say more on the last point: We believe that if we are to change health care dramatically, we must deploy our interventions broadly – across our health system and even beyond it. We use the word "transformation" as shorthand for impact at scale and non-incremental change, and we have embedded it into the Center's name alongside "innovation" to signal its importance to our present and future work.
Scaling is a formidable task. We are developing strategies and assembling and allocating the resources to learn how best to operationalize transformation – and to enable greater change by strengthening our partnerships in the medical school and health system. Penn Medicine's Office of Transformation, including its leadership and several workgroups, is integrated with CHTI, and together we are planning a path forward with support and direction from leaders across the enterprise.
Health care is rapidly evolving, and CHTI executive leaders Raina Merchant, Roy Rosin, Shivan Mehta, and Kat Lee are passionate about keeping Penn Medicine at the vanguard of innovative care delivery and supporting a world-class team of physicians, nurses, engineers, designers, data analysts, developers, researchers, and project managers to be at the forefront of that change. 
CHTI's constituent teams, now called Impact Cores, have also undergone changes. Each Core has a research arm and a clinical/operations arm to support evidenced-based approaches to care delivery and accelerate the application of research to health system operations. Having these groups working side by side within a Core creates new opportunities for cross-collaboration and integration of these missions.  
Two existing CHTI Cores, Way to Health (led by Mohan Balachandran) and the Nudge Unit, (led by Kit Delgado), continue to enable care research improvements within their established frameworks. Three other Cores have been newly formed or reimagined to better reflect their respective focal areas or approaches.  
The Population Health Lab (PHL) uses rigorous research methods grounded in behavioral science to evaluate and scale new technology-driven approaches to improve health care delivery. PHL's body of work encompasses large-scale cancer screening, vaccination, and remote engagement initiatives. The PHL Impact Core is led by Shivan Mehta, associate chief innovation officer at Penn Medicine. 
The Center for Health Justice (CHJ) enables health through racial, economic, and environmental justice for Black individuals and other people and neighborhoods harmed by structural inequity. The CHJ Impact Core is led by Eugenia South, associate vice president for health justice at Penn Medicine, and has two component groups. The Urban Health Lab, which South has led since 2020, advances the science of health justice and catalyzes healthier, safer, and greener neighborhoods. CHJ's Health Justice Transformation group will partner with health system leaders, staff, and stakeholders to infuse concepts of justice into all aspects of health system operations.  
The Center for Insights to Outcomes (I2O) leverages principles from design thinking, software development, data science, public health, and business model innovation to solve challenging problems in care delivery. Bringing together the clinical operations work and digital health research of two former CHTI teams (the Acceleration Lab and Center for Digital Health), I2O aims to create a synergistic environment in which learnings from each inform the work of the other. The I2O Impact Core is co-led by Raina Merchant, Shivan Mehta, and Kat Lee. 
"We've always aimed for impact at scale and are proud of the many novel care models that have become best practices," says Roy Rosin, chief innovation officer at Penn Medicine. "These changes, with an emphasis on transformation and elevated focus on population health and health justice, better position our Center to identify, develop, and implement breakthrough interventions everywhere they belong across Penn Medicine and beyond, aligning our work with top system and national priorities."